CCS (Cross Carmellose Sodium)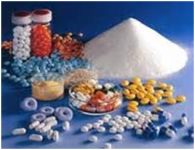 Fastest dissolution of tablet very small quantities need to be added to formulation like croscarmellose sodium for good life of tablet.

We offer croscarmellose sodium which is an excipient in medical formulations. It is highly absorbent and insoluble like a sponge. Croscarmellose sodium is the sodium salt of a cross-linked, partly o-(carboxymethylated) cellulose.

Specification of CCS :
Color White Sodium Chloride & Sodium Glycollate Max 0.5% Moisture Max...
Inquiry